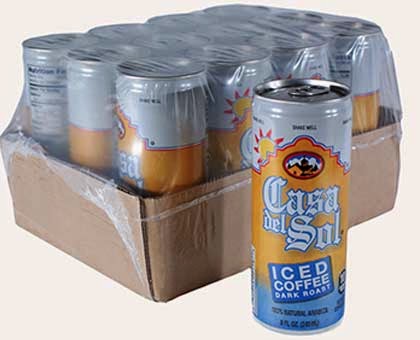 Casa Del Sol Iced Coffee
Bottom Line
Casa Del Sol Iced Coffee is possibly one of the worst canned coffee drinks I have ever had the displeasure of drinking, or at least the worst in the past 3 or 4 years.  From the expensive price for the little badly illustrated can to the taste of burned hell and chemicals, this is the […]
Posted April 23, 2016 by
bigredboots
Casa Del Sol Iced Coffee is possibly one of the worst canned coffee drinks I have ever had the displeasure of drinking, or at least the worst in the past 3 or 4 years.  From the expensive price for the little badly illustrated can to the taste of burned hell and chemicals, this is the worst way to get your caffeine fix in a liquor store I have seen.
I mention the liquor store because that is just about the only place you will see this – either as a freebie attached to a  Rumchata gift pack, or hidden away next to the sodas and mixers.   It is put out by a liquor import company in the midwest  ( the people behind the Chata line of drinks), and is about has about as close a connection to Spain as Vultaggio &Sons of Brooklyn have to do with Arizona Tea.
Packaging:3
Its a cheap illustration printed badly and cheaply on a thin 8 ounce can.  The design is muddled because of the crappy printing job, so you can not quite make out that it is supposed to be printed on a distressed yellow wall, cutting to a blue bottom for no apparent reason.   The only thing that makes this look even remotely spanish is the top of the can's cutaway Spanish-style roof and ridiculous stock illustration drawings of a town and a sun.  It is hard to make out exactly what is going on because of the cheap printing job, but you can read that this coffee has no sugar, only 10 calories and 100% arabica.
Besides the printing quality and the bad art, there are functional problems too.  They did not double face the can, the lid isn't fitted for the drink to face a certain way or is any way special to the drink, and the art flakes off easily from the can.   The only good thing is that they do print the caffeine content right in the ingredients list so it is easy to find.
Taste:1
The person who thought this drink was OK to be sold to the public for a price should be fired and find a different industry.   I can not believe there is not someone who had a hand in bringing this drink to market who tasted this and found it acceptable.  At what point is something like this OK?
By sugar free, they meant just that – a bunch of cold burned drip coffee served black.  I don't think there is much more to say about this other than its the worst canned coffee I have ever had in my entire life – and I have had some really scary bad coffee things in my past.  I guess this is mostly a throwaway attached to their rum drinks, or mixed so heavily that it is OK that it tastes so bad – because no one will ever taste it through all the alcohol.
If you are going to be brave and try this one out – I do advise you get Casa del Sol ice cold – it helps mask the acrid burned non-sweet baking soda flavored taste.
Buzz:5
Yes, for a small 8 ounce drink, the 120mg of caffeine is  nice thing.   Other than that,the only other ingredients in here are burned coffee and baking soda.   I am sure the baking soda was to add some shelf life, which on the one hand is good – because these are going to be going rotten on liquor store shelves, but also makes a bad tasting coffee even worse ( Arm & Hammer Lattes – don't recommend it).  Being just coffee and chemicals also keeps your calories to a minimum, but you would be better off getting a black coffee from a fresh pot of Folgers Crystals than you would opening a can of Casa del Sol.