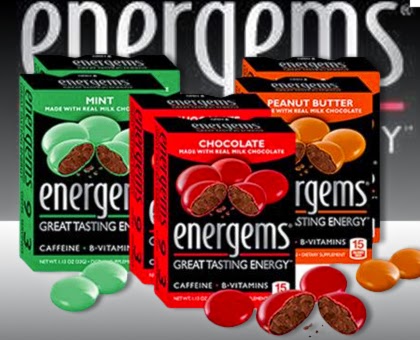 Energems Energy Candy
Bottom Line
Energems are new treat that s just like your favorite M&Ms only made more awesome.   They sent me three different kinds to try – a peanut butter flavor, a mint as well as their original chocolate too.  These come in a very grownup package and very hard to mistake as a kiddies treat.  When […]
Posted May 20, 2016 by
bigredboots
Energems are new treat that s just like your favorite M&Ms only made more awesome.   They sent me three different kinds to try – a peanut butter flavor, a mint as well as their original chocolate too.  These come in a very grownup package and very hard to mistake as a kiddies treat.  When you are looking for something less crumbly and overall tastier than your chocolate covered espresso beans, these would certainly fit the bill.
Packaging: 9
Energems come in a very sophisticated black package, never letting on that there are yummy candies inside.  I am sure this is intentional, as I can not imagine many youngsters picking these up as opposed to a primary colored package.  This is a good thing – and they pulled it off nicely too.   It looks grown-up, without looking pretentious, and silly.
For being a paper box, they did great with the functionality of the box too.  There is the calorie count in front like you find on other candy, snacks and spas now, along with a full listing of caffeine and other ingredients, a comparison to a cup of coffee, clearly labeled serving size, all in an easy to read and understand format.  The print job is clear and crisp and professional – all around a beautiful product.
Taste:
Mint:10   Peanut Butter:9  Chocolate:8
One of the nice things about Energems is they don't try to pack too much caffeine and other nutritional stuff into each gem – as it can really affect the flavor of the chocolate.   No matter what you end up adding to chocolate, you can usually taste any elements that are a bit off, and in this case it leads to a slightly chalky and bitter flavor – most likely because of all the vitamin B, which is quite chalky.  While you can not really tell when the flavor is mixed with mint, it becomes very apparent that this is not just a chocolate treat in the straight-on chocolate candy.  It also leads to a kinda funky aftertaste that is not what you would expect from a chocolate treat.   It does work very well in the peanut butter flavor, as that is just a nice jumbled flavor combo of sweet and nutty, so a little chalkiness is barely even noticed.   If I were to make one suggestion here it would be to cut down on all the vitamin B, which would help with the flavor and not really affect the nutritional content of the Gem.
Of the couple boxes of each flavor they sent me, the mint was gone in almost no time – I offered some samples to folks at work and anyone who had mint came back for more.   As expected the next to be devoured was the peanut butter – people liked them who like peanut butter candies, but it seems that PB treats are not one of  those universally-enjoyed flavors.  As for the chocolate boxes, I think I still have one unfinished one somewhere.   It is not that the chocolate flavor was bad, it just did not live up to the deliciousness of the other flavors they have.
Buzz:8
One of the nicest things about Energems is that they have some real power to them, but not so much that if you end up eating an entire box you won't get sick.   Each little gem has about 25mg of caffeine in it – enough that if you munch three of them you get a nice small buzz, or if you accidentally down an entire 9 candy box you will only get 225 mg of caffeine, which is about as much as you would find in a Low Carb Rockstar or a large breakfast blend coffee.  Unless you were to eat 7 or 8 of these boxes in a row could you do yourself any damage, and I am pretty sure that much candy in your stomach at one time would make you hurl before that much caffeine could do any damage.  I also like the addition of the other energy drink posse of ingredients, including taurine, glucurolactone and the usual overdose of vitamin B.
Of course one of the biggest problems with eating any sugary candy is that if you eat it for the pick-me-up, soon enough there is going to be the crash, which you will definitely have if you eat the entire box of one of these candies.  The theanine was most likely added to help with the crash, but it would be the same as if you munched a bag of peanut M&Ms though.  Overall, for a quick boost that is tasty and fun, I would not hesitate picking up a couple boxes.to munch on.