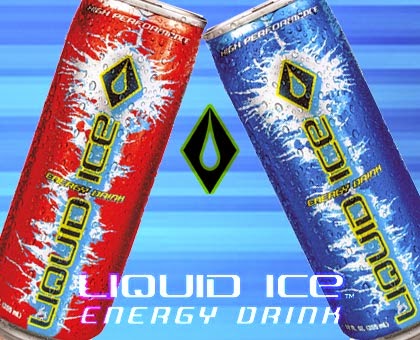 Liquid Ice Energy Drink
It has been many years since I was able to try Liquid Ice energy drinks.  I reviewed them back in 2008, and they were a me-too Red Bull wannabe that was endorsed by Ice T.   Well, that could not be further than the new grown-up version of Liquid Ice.  It might look similar, but this fully grown up an unique energy drink had me clamoring for more.  If Liquid Ice was near me in the local convenience store, I would be sorely tempted to go for one of these as opposed to the normal Rockstars or Monsters.
Liquid Ice comes in 3 flavors.  There is a Blue, White and Red flavor.  I know those are colors and not flavors, but also in the energy drink world, Blue is definitely a flavor.   For some reason they did not send along any of the white flavor, but I was able to enjoy both the Blue and the Red, and I have to say that I was very happily surprised with both of them.   Its nice to know that in the six years since I tried Liquid Ice, their flavors have improved this much!
Packaging:8
I love the lushness of the colors of these cans.  I know that is an odd thing to say, but they look so thick and glossy that I could have sworn this was a wrapped plastic can.  The color is laid down thick, and the design is one where even if the can gets knicked or slightly marred you would not be able to tell.  The design pops out with the colors and fonts, and it is all very easy to read and check out.
The only issue I have is that these are still coming in small 8 ounce containers – which consumers have really moved past.  Other than Red Bulls – which also come in 12 and 16 ounce containers, there are really not a whole lot of these tiny 8 ounce drink cans anymore.   I have read there are twelve ounce versions of these drinks out there somewhere – although like the white cans, thats not what I received.
Taste:9
Both the Blue and the Red flavors are really something.  I expected the blue to taste like blue raspberries, as all blue candied substances usually are.   Surprisingly that is not the case.   When you first open the can, you get a whiff of something sour, but also fruity- not a normal smell.  It also does not look normal – pouring out a nice vibrant blue color.  It tastes a whole lot like candied fruity deliciousness – maybe berry and maybe citrus – I can't tell.  What I can tell is that it is super tasty, and I would easily drink through a whole box of them if they were sitting around.
The Red flavor is red flavored, like a fruit punch or some sort of berry.  It is different than the blue, but is also a very hard to distinguish flavor profile.  While I did not like this as much as the blue, the red is an equally impressive flavor.  While I would not say this tastes natural or healthy, hey did a great job making a unique energy drink taste that stands out from the pack.
Buzz:6
The buzz in a small eight ounce can is about what you would expect.  There is 80mg of caffeine in the can – which is very standard for this kind of drink.  There is also the usual overload of B vitamins, taurine and inositol, and both clock in at 130 calories for the small can.   The one interesting ingredient is the addition of coQ-10, which is great for increasing brain function.  For a straight on energy drink this is just about what you would want to see.  I would love to see them kick this up a notch, although they get an extra point from last time for dumping their push of caffeine over guarana angle.
Overall if I found these in a bigger can, less calories or with a stronger formulation I would not hesitate picking up a few cans and enjoying that delicious flavor again!
bigredboots