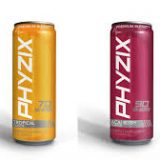 Phyzix Energy Drink
Positives
Pretty can, decent energy boost and great tropical taste
Negatives
Quite a few calories per can, surprising because of the Stevia listed in the ingredients
Bottom Line
Phyzix energy is a new energy drink made by Bonerva,  is the name of the private label brand created and manufactured by Bonvera, a referral based, MLM style company. So if you are wanting to try your own Phyzix drinks, Bonerva is where you need to go to get them – you won't find them […]
Posted May 18, 2016 by
bigredboots
Phyzix energy is a new energy drink made by Bonerva,  is the name of the private label brand created and manufactured by Bonvera, a referral based, MLM style company. So if you are wanting to try your own Phyzix drinks, Bonerva is where you need to go to get them – you won't find them in convenience stores or supermarkets.
Packaging
Phyzix energy drinks come in two varieties, acai berry or Tropical flavor, both in a 8.4 fl. ounce can. I enjoyed the package appearance of the acai berry more than the tropical because the maroon and red background of the can made the white Phyzix logo stand out and draws in my attention. I also liked that the logo was in two spots on the can so even if it's turned while being drank or put incorrectly on the shelf the logo is still shown. The main part of the packaging I had an issue with was on the back of the can, the nutrient and ingredient list was printed in the same white lettering as the front but printed on very shiny chrome can making it very difficult to read.     
Buzz/Nutrition

The buzz fromthe can is what you would expect – 80mg per can – the same amount you would find in any 8 ounce drink.  This is on par in terms of nutrients and caffeine with just about any small energy drink can out there.

Including common caffeine sources such as guarana seed extract and green tea extract, Phyzix uses another extracted fruit that grows on what is called Cha De bugre. Cha De bugre is a tree native to  Brazil but can be found also  found in Paraguay and Argentina. Cha De bugre is also commonly used as a home remedy, it is used to help with a Cough, Gout, venereal diseases to even helping with cancer or blood circulation. Unfortunately Scientists have not been able to study the plant thorough enough to confirm nor deny that Cha De Bugre has any official medical use.
Proprietary blend: 110 mg
Guarana Seed Extract, Green Tea Extract, Cha De Burge Fruit Extract, Ginseng Root Extract,L-Tyrosine, Maca Root Extract, Yerba Mate Leaf extract       
Taste – Tropical
From the moment I cracked open the tropical Phyzix can, I was surrounded by the aroma of a mix of coconut and pineapple. First drink I tasted the same aroma I smell but shortly followed by a strong taste of orange citrus. For the after taste I started to notice a definite Tea/Herbal aftertaste.
The thing I enjoyed about the tropical flavor is that is tasted original – more unique.  The acai berry tasted very nice, but the flavor profile was not uncommon.  It tastes like a Punched Rockstar or like the mny many berry flavors of energy drinks out there.  While it is by no means a bad flavor, it just does not have the originsality that the tropical flavor does.
If you want to know more about the drink, you can visit their site at http://phyzixenergyco.com.  To sign up and be able to get the drinks yourself, you can get the Tropical here (http://bonvera.com/join/product/PHYZIXTROP24PK) and the Acai here (http://bonvera.com/join/product/PHYZIXACAI24PK).