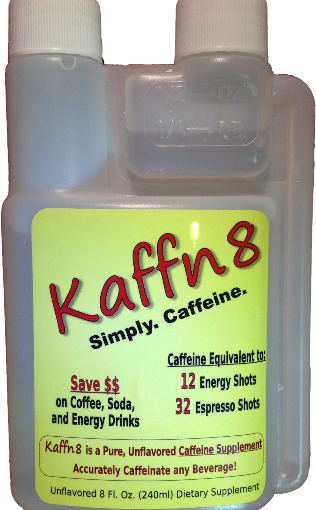 Kaffn8 pure liquid caffeine
Bottom Line
I have tried a good number of caffeine boosters – liquid or powders that you add to your drink or food of choice and turn regular food into Energy Food, being able to caffeine everything from your morning orange juice to your pizza.   Kaffn8 is a decent version of this kind of caffeine concentrate […]
Posted May 20, 2016 by
bigredboots
I have tried a good number of caffeine boosters – liquid or powders that you add to your drink or food of choice and turn regular food into Energy Food, being able to caffeine everything from your morning orange juice to your pizza.   Kaffn8 is a decent version of this kind of caffeine concentrate – where you just pour a little in your morning meal for that little bit of oomph you need.
The big difference between Kaffn8 and the others is that it makes it easy to be sure that you are getting the correct dose with a very handy bottle – able to meter out doses at your specified level.   Other energy liquids come in a big bottle or in squirt containers – this is in a very unique squeeze bottle that takes out all the guesswork.
 Packaging:8   Design:2
Normally I combine these into one score, as the design of the thing helps sell the package.   But, in this case, the design is so amateur it seriously detracts from the great bottle.
 The closest thing I can get to describing the bottle is the double chambered clear squeeze bottle looks industrial in nature.   I have no idea how you would make or even dream up something like this.   I don't know if other industries use bottles like these, but I know I have never seen something this ingenious to measure out energy supplements.  The idea is it works like a bong.  There are two caps – one for filling and the other for pouring.   You open the pour side and squeeze the liquid from the main chamber to the measuring chamber, stop when it reaches your level of potency and then pour into your drink.  It works brilliantly – a no-muss no-fuss way to get your energy.
The problem is that Kaffn8 looks like industrial floor cleaner packaging, making the whole product seem a whole lot sketchier than is needed.  IT looks like the label design was doe in Microsoft paint, or a similar program.  It lacks and professionalism, which made no one in the office – even my more seasoned guinea pigs – from giving it a try.   Only one brave soul gave it a go.  He loved the product, but could not get over how much he felt like he was adding car additives or something poisonous.  Rather than instill the used with confidence in the product, the amateur label design nearly did the product in.
 Taste:7
When you are talking of a caffeine liquid, usually the taste does you in too – but not in the case of Kaffn8.  No, it does not taste very good by itself, but the bitter caffeine flavor is masked very easily – hidden without any flavor a all in a glass of orange juice, Snapple Punched, a Mountain Dew, warm peanut butter, and even in a morning omelette.  While I could certainly taste the caffeine in certain drinks, it was not really a bad flavor – just a little chalky.
 I understand the reason for keeping flavor masks out of this – as Kaffn8 is really all about the caffeine, having nothing but caffeine and water included.   However, that leaves the masking of the flavor up to you.   Adding a shot in some lemonade is perfect, but it a glass of hot tea it's revolting.   As long as you do OK on adding a little sourness to your food items, Kaffn8 is a really cool product.
Of course one of the coolest things about Kaffn8 is that you can measure just how much caffeine you want, and they make the measuring so very easy.  The pour spout has 2 markings, depending on your power level.  You can easily measure out to the 75mg mark or the 150mg mark, and the buzz you get from it comes on fast, depending on what you add it to.  I have found that some mornings, I need the shot of caffeine so much that I just swig straight from the bottle – downing a 150mg shot in one swallow, and feel the buzz within fifteen minutes or so.  Now if you add it to your Caramel Caribou Ice cream it'll take longer for the caffeine to be absorbed, but that is the price you pay for extra caffeinated ice cream.
Overall, I think the only thing that would keep this product from having a big impact is the packaging.   The actual bottle is so cool – I wish there was a better job making it look as cool as the bottle itself is.  The flavor is not bad by itself and is very mixable, and the mixture is potent enough to give you that boost you need.   With a little work, this can be one stellar alternative to your morning drink – being able to caffeinated anything you desire easily and with minimal flavor impact.