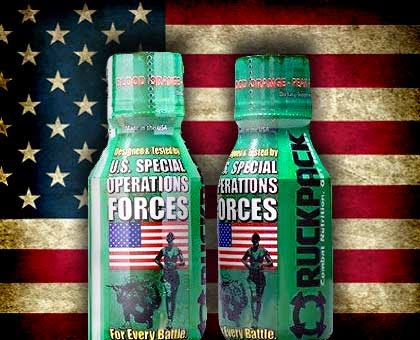 Ruckpack nutrition Shot
Bottom Line
Ruckpack is one of those energy drinks with a real mission.   It is created by veterans and they give at least 10 percent of profits to several charities, including the Wounded Warrior Project and the MARSOC Foundation.  More than just an energy shot, this was designed as a core wellness nutrition shot. Yes, they […]
Posted May 20, 2016 by
bigredboots
Ruckpack is one of those energy drinks with a real mission.   It is created by veterans and they give at least 10 percent of profits to several charities, including the Wounded Warrior Project and the MARSOC Foundation.  More than just an energy shot, this was designed as a core wellness nutrition shot. Yes, they put energy all over the bottle, but that is a misnomer. Ruckpack gives you energy the same way a protein bar gives you energy – by supplying the body with a good dose of what it needs to function well, except the sweet sweet caffeine.
Packaging:9
Ruckpack is one of the few energy shots that have decided not to use the standard 5 hour energy bottle, and it is much better for it.  The unique shape gives this character, and it makes the whole product look more… ballistic. You can tell from the colors and logo that this is a serious energy shot made for serious American people – especially when enhanced by the army men and US flag and big callout for the US Special Operations Forces.
Functionally the bottle works too.  It is easy to read, great printing job, packaged neatly in the 5 Hour fashion of having the tear-off label and sealed lid.  It stores well, stacks well, and is all around appealing.  They do advertise in big yellow letters that there is no caffeine in the shot too – just in case you got confused and wanted a rush of energy from it.
Taste:3
I understand that this is loaded with vitamins and minerals and all this other good stuff, so they did not want to weigh this down with sweeteners and such, but they really could have worked on making this taste better. The closest way to describe the flavor is like a Centrum tablet crushed into powder and mixed with prune juice. It really is not pleasant.
The best way to drink this is ice cold.  I don't know if that really improved the flavor or it just makes it faster to get down past your tongue, but either way I would definitely suggest icing this for an hour before slugging down.  They also recommend mixing with cold water – but that is a really bad idea.  Unless you like watered down vitamin crushed prune juice, which in that case go for it.
The absolute best way to drink this is after strenuous exercise – like a big cardio workout or a run.  It still might taste bad, but the minerals and aminos and electrolytes taste to good going down that it does not matter how the flavor is, because it is like Manna from heaven.
Buzz:8
Ruckpack is the highest rated non-caffeinated energy supplement I have tried, and I have to say I am surprised. It does not even give you a burst of energy, but I still found the sustained power that you can get out of a bottle very interesting.
The ingredients list is interesting too. THere is A-GPC, Theobromine, MSM and a bunch of amino acids, which is a combo I have not seen before. On top of that there is a crapload of vitamins, including B complex, C, K and D. All of this with under 20 calories and sweetened with stevia.
It's like this: Sometimes when driving you need a big burst of speed to get you where you need to go – and you need to be able to maneuver past obstacles and have that immediate power. But there is a special kind of feeling when you drive a car that just had it's fluid changed and has a tank of ultra-premium gas – like your car is in peak optimal driving conditions. Ruckpack is like that premium gas. It wont get you moving in the morning or past that afternoon slump or do any of the awesome things we love with caffeine. However, once you are up and moving it can help restore you to optimal conditions.
Because of the lack of caffeine, I tried Ruckpack out in two other conditions, and both worked admirably. My son and I were needing something as a post-workout drink. I am in a grueling cardio routine in the mornings, and find that by the end I am wiped out and dehydrated. Ruckpack is amazing at almost immediately refueling me with electrolytes and good stuff to bring me right out of it (although a bit more caffeine in it would have accelerated the process). Ruckpack wins over all those sports drinks and recovery smoothies – hands down. I also found that on heavy coding days when my brain wants to turn off but I need to finish a bit of development I am working on, this gives me the focus to go further than if I just tried to muscle my way through.  Chasing this down with a Diet Mountain Dew provided a great way to both give me the caffeine charge, plus helps get the taste out of my mouth as well.
While I definitely would not recommend this as a replacement for your morning coffee or energy drink, Ruckpack surprised me by just how potent and beneficial a non-caffeine energy drink can be.