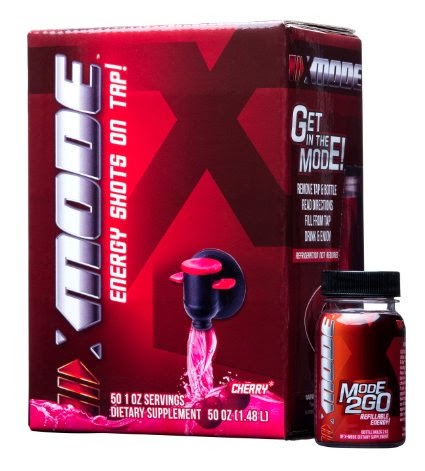 X-Mode Energy Shot Tower
Bottom Line
I love brilliant dangerous ideas.   Like Lawn Darts and Pogo Sticks with wheels on the bottom, X-Mode energy is a whole heck of a lot of fun, as long as you don't let stupid or accident prone people near it.  X-mode is a delicious super potent energy shot, but it comes in a box […]
Posted May 20, 2016 by
bigredboots
I love brilliant dangerous ideas.   Like Lawn Darts and Pogo Sticks with wheels on the bottom, X-Mode energy is a whole heck of a lot of fun, as long as you don't let stupid or accident prone people near it.  X-mode is a delicious super potent energy shot, but it comes in a box – like boxed wine – and is served through an easy pour spout.   For adults and people with common sense, this is truly a boon.  You can pour as little or as much of the powerful elixir as you want, without wasting.  It is also economical, giving you much more bang for your buck.  Just remember to go easy – as X-mode is strong enough not to be taken lightly.
On tap energy shots – its a great idea.  I have only seen this once before, and that was with Kymera Freakish Energy, a product which has sadly been discontinued.   There are 100 1-ounce servings in a box, and it works just like wine-in-a-box does, with a little pull out spout that you can measure out your dosage.  I gave this a try at home, at work and at the gym, and in all instances I am a big fan!
Packaging: 10
The box itself is very clean and professional.  The printing is all nicely laid out – as well as all the numerous warnings to not be stupid and try to drink an 8 ounce glass, mix with alcohol ( only if you are a semi-professional, like me) or give to kids and people who shouldn't drink caffeine. After pulling out the spout from the box, you also find two cool prescription bottles to help you measure the correct dosing.  The side of the package as well as the little bottles have all you need to know about your drink, including all the nutrients in exact amounts as well as the caffeine content.  Besides listing the website, they even go to listing a phone number in case you have any more questions about it.  All in all the whole presentation is top notch.
Taste:9
When you are dealing with 100 energy shots, if they tasted gross this would be a big problem.   I have seen it many times where energy shot manufacturers make their shot flavor taste medicinal on purpose, in the hopes that it would make the product seem more like a powerful medicine than an easy-on-the-palate drink.  Fortunately for everyone, X-Mode tastes really nice – managing to hide most of the bitter caffeine and B Vitamin flavor in a thick candy coating that seems a touch cloying, but overall easy to drink.   The flavor reminds me of cherry cough syrup, only without the alcoholic bite and less syrupy.  X-Mode comes in just a cherry flavor, at least for now, which works as a flavor.
While this is not the best energy shot I have had, I would say that the flavor definitely ranks in the top 5 of all time.
Buzz:10
What more can I say – other than X Mode is a beast!  In each 1 ounce serving (FYI, 5 hour energy shots come in 2 ounce servings) there is 150mg of the our favorite drug, along with a bunch of vitamin B complex, taurine, and some other cool stuff like Citrulline Malate (an amino acid which delays the onset of fatigue during workouts), and L-Tyrosine (another amino that helps reduce stress and enhance memory tasks).  X-Mode is liquid power of the old school energy drink variety.   I would recommend starting of slowly and see how you handle the effects.
I started the box off with a week of trips to the gym, and the effect there was very impressive.   I get to the gym at a little before 6am, so just getting out the door on a cold day is a challenge.   about 10 minutes after a shot of X Mode was all I needed to get the energy to do a great workout.  Also, all my workouts improved just a little – to the point I can not run a 10K (personal 2014 goal DONE!).  It also worked well in the afternoon, when work drags on and I needed a bit of boost to get me through the rest of the day.
I did break with the directions though.  I am a big fan of ADULTS (meaning people with a lick of sense – regardless of age) having the option of caffeinated alcohol – and have enjoyed many types of drinks, from old cans of Joose to super-caffeinated coffee porters.  So in that spirit, on a snowy weekend I did mix it with a vodka, tonic water and a splash of lime juice to  create the most delicious Cherry Vodka Tonic – it was more potent and delicious as any Red Bull and Vodka combo.   Not only was it delicious, but I really loved being able to drink one and still feel energized enough to get things done around the house.  I had a couple throughout the day and managed to keep buzzed an happy for hours.
You can find about how to get hold of the product on their website: http://www.xmshot.com