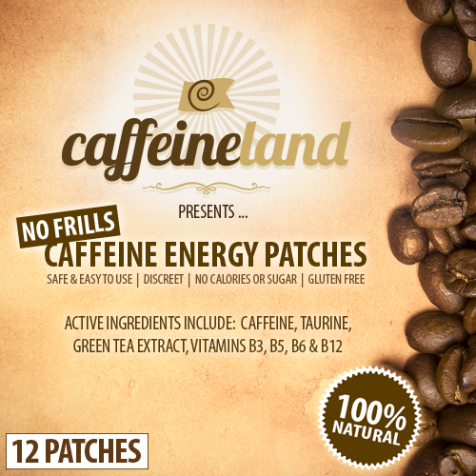 Caffeineland energy patches
Bottom Line
One of the remarkable things about caffeine is that it can easily get absorbed right through the skin, and never have to ass your lips in order to reach your bloodstream.  In fact, people who are very caffeine sensitive should not even handle pure caffeine, and wear gloves when cooking or preparing items containing it. […]
Posted May 20, 2016 by
bigredboots
One of the remarkable things about caffeine is that it can easily get absorbed right through the skin, and never have to ass your lips in order to reach your bloodstream.  In fact, people who are very caffeine sensitive should not even handle pure caffeine, and wear gloves when cooking or preparing items containing it.   That is how caffeine works when it is added to soaps, shampoos, lip balms, and all those cool caffeinated products.
Caffeineland Energy Patches are using this to their advantage by creating patches, just like a nicotine patch, and slowly let you absorb caffeine slowly throughout the day.  You just stick them on your skin and there you have it.  I have tried caffeine patches before, but Caffeineland patches  actually work.
Packaging:8
The thing with this particular patch is that they are selling it as a discount product, something cheaper and more functional than others on the market  That also means they have a sparse package to them, going with basically a logo on a label, then placed in a bag.  I like the idea of going no-frills, as this pushes the functional element of the product over the uniqueness.   Their design says"Of course caffeine patches work – and this way you can have them cheaply too".
In terms of function, this is very serviceable.  They last a long time, don't get stuck together, and there are more than enough in a package that you can wear a couple a day for a good couple weeks before needing more.   They are skin band-aid colored, so you don't need to explain what you are doing to anyone who might see you sporting one, and you can slip a couple into your pocket or wallet without fear of them getting sticky or gummy.
Buzz:8
If you are looking for a rush of energy from wearing a patch you are going to be very disappointed.  Because the caffeine in a patch does not need to go through that whole messy process of being processed in your stomach and can go more easily through the skin, you don't need nearly as much to get your dose of the good stuff.  Each patch only has 30 or so mg of caffeine in it – and this gets absorbed throughout the day, rather than in a big gulp.  This means that you will not get a blast of energy, but instead will feel a nice lift of overall energy for 5-6 hours.  I wore two of them for a couple weeks and the difference in the amount of energy I had was noticeable.  You just slap a couple eon the inside of your arm in the morning, and by noon you feel a bit more alive and perky.
The interesting thing is what happens when you mix this with your favorite caffeinated beverage.  even the more crash-prone energy drinks like the ones high in sugar no longer have the same caffeine crash.  You spend your day feeling more alive and awake, without getting any of that jittery high (although I do like my jittery highs).  I would steer clear of this if you are needing your morning caffeine fix or want something to get you through a drowsy period, but for just a nice little perk up for a good several hours, this is definitely a great way to go.
If you cant find them in stores yet, they are also sold on their website: http://caffeineland.com/